Jeff Jarry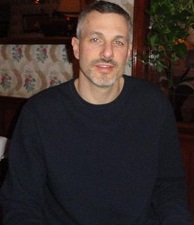 Education
Cumberland High School, class of '88
Bryant College, class of '92

Employment
Elmer's
Resource Marketing
Absolutely Virtual, Inc.

---
Vitals

Full name: Jeffrey Allen Jarry
Height: 6' 4"
Weight: 220lbs
Health
Up to age 20: Excellent
Ages 20-25: Very good with a very occasional inexplicable problem. Had optic neuritis for a few weeks
Ages 26-30: Good with an occasional inexplicable problem
Ages 31-32: Fair
Ages 33-38: Bad
Ages 39 ? present: Increasingly better
Personal

Jeffrey Allen Jarry was brought up in a middle class neighborhood and could play a mean game of tag, kick the can, and loved climbing trees. His true passion is any form of writing. Whether it be computer code or common literature, he is at his happiest.
He is the one who recovering from Multiple Sclerosis and is expecting a full recovery from MS and all it's related symptoms. The website shows the positive progression, what I'm doing, and how I am doing it.
"I am very fortunate to have a few people by my side who h
ave been there every step of the way and have provided some incredibly valuable insight. My fiance
Kristen Mitchell
and her good friend
Joan McLaughlin
."
Education

Cumberland Grade Schools and Cumberland High School in Cumberland, RI
Bryant College: Smithfield, RI
Sports

Hockey - picked to be on All-Star team.
Baseball
Basketball - was nominated to the Street & Smith honorable mention All-American and the Rhode Island All-State teams
Football
Professional

A former member of the U.S. Army whose job was to maintain and repair data equipment; such as a 200+ user Wide Area Network and multiplexers.
An Internet developer at Resource Marketing. Worked on sites to include Victoria's Secret, Ford automobiles, and MAC Tools.
Started and owned Absolutely Virtual, Inc. A computer corporation that primarily focused on leading-edge data driven web site development.
Certificates
Microsoft Certified Professional: Workstations
Microsoft Certified Professional: Servers
Microsoft Certified Professional: TCPIP
Some of the symptoms Jeff is recovering from:






"Recovering from MS is something I didn't think was possible. My MS is not a different kind than anyone else with MS; it just affects us all a little differently."-Jeff Jarry

Moderate: Relapsing Remitting (RR)
More severe: Secondary Progressive (SP)
Most severe: Primary Progressive (PP).

There are many other classifications, but all = 1 thing: MS.


Contact Jeff
For questions concerning exercise and recovery in general,
Jeff can be contacted @
JarryJeff@hotmail
.com